Elephants are perhaps mainly known for their large size and their long trunk. But did you know that they are also incredibly good swimmers?
In this article, we will explore everything you need to know about elephants and water. We will discuss why elephants are such good swimmers, where they typically swim, elephants drinking water, and other interesting facts about these creatures!
Keep reading to find out more!
---
Elephants and Water – What Do They Have In Common?
For starters, elephants must consume around 20 gallons of water daily to survive. And not only do they drink a lot, but they also use it in other ways, such as bathing and cooling off their large bodies. This is the same for Asian elephants and African elephants alike.
But why are they so good at swimming? One reason is that their trunk acts like a snorkel when they go underwater.
And their large size helps them float and stay buoyant in the water. Elephants also use their trunk to gather water and throw it on themselves, just like we would use a shower or bathtub.
Elephants are known to swim in rivers, lakes, and even oceans. They have been spotted swimming across channels in Africa and India, often migrating to different areas to find food to eat or escaping danger.
---
How Do Elephants Drink Water?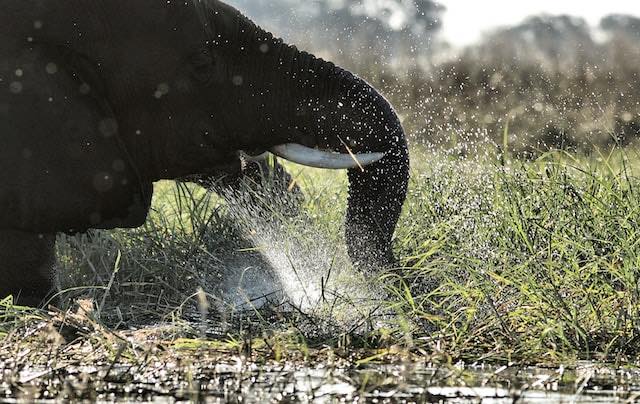 Elephants will use their trunk to suck up water and squirt it into their mouths. They can also suck up water directly through their trunks and into their throats, skipping the whole squirting step.
Elephants (especially African elephants) have an incredible sense of smell and can even scent out and locate water sources from miles away! This helps them survive in dry, arid environments where water may be scarce.
Sadly, elephants are facing threats such as poaching and habitat loss. But there are ways you can help protect these majestic animals.
Consider supporting organizations that work towards elephant conservation, spreading awareness about the issues they face, and being a responsible and ethical ecotourist by avoiding places where elephants are exploited.
---
How Much Water Does an Elephant Drink In a Day?
On average, elephants consume around 20 gallons of water in a day.
Requirement:
18-26 gallons (68-99 liters)
Maximal consumption:
Up to 40 gallons (150 liters)
Fun fact:
An adult male elephant can drink up to 55 gallons (210 liters) of water in less than 5 minutes.
However, this can vary depending on their habitat and the temperature. They may obviously drink even more water in hotter climates to stay cool and hydrated.
---
Do Elephants Use Water to Communicate or Bond?
Elephants use water and mud to protect their skin from the sun and insects.
They also use water to play and bond with each other, spraying each other or using trunk slaps in water to have fun as part of their behaviors. They've been seen spraying other animals as well for fun.
And interestingly, elephants have been observed using water and scent to communicate with each other, such as by splashing water and then smelling it, almost like other animals smelling urine.
---
Can Elephants Smell Water?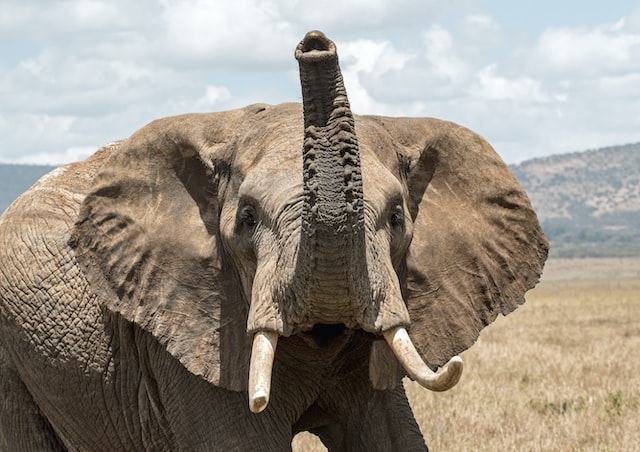 Yes, elephants have a strong sense of smell and can scent ad locate water sources from miles away.
This is a great tool to help them survive in dry environments where water may be scarce.
How Far Can Elephants Smell Water?
There is no definite answer to this question, as it would depend on various factors, such as the strength of the scent and wind patterns. However;
---
The Importance of Keeping Elephants Hydrated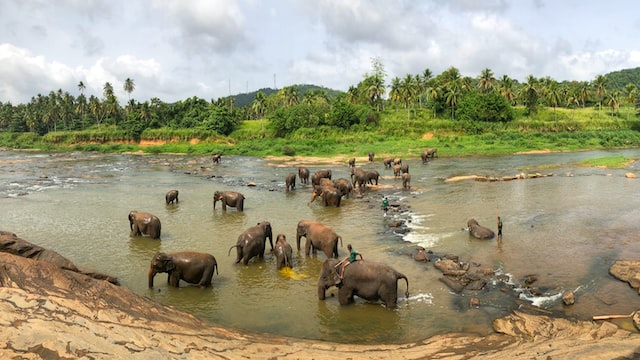 In addition to helping elephants function properly and keep their skin healthy, water is also vital for elephant herds.
It can attract other elephants to a specific area and serve as a gathering point for social interactions.
And in times of drought, access to water sources can be crucial for survival. That's why it's important to protect and conserve water sources in areas where elephants live.
---
How Can You Help Ensure Elephants Always Have Access To Clean Water?
You can support conservation efforts that protect and preserve natural water sources in elephant habitats.
Spread awareness about the importance of providing clean water (even if it is distilled water) for elephants and consider donating to organizations that work towards this goal.
Together, we can ensure elephants always have access to clean water. Polluted water can contain volatile organic compounds, drinking this can be very harmful to the nasal cavity and the ear canals of elephants.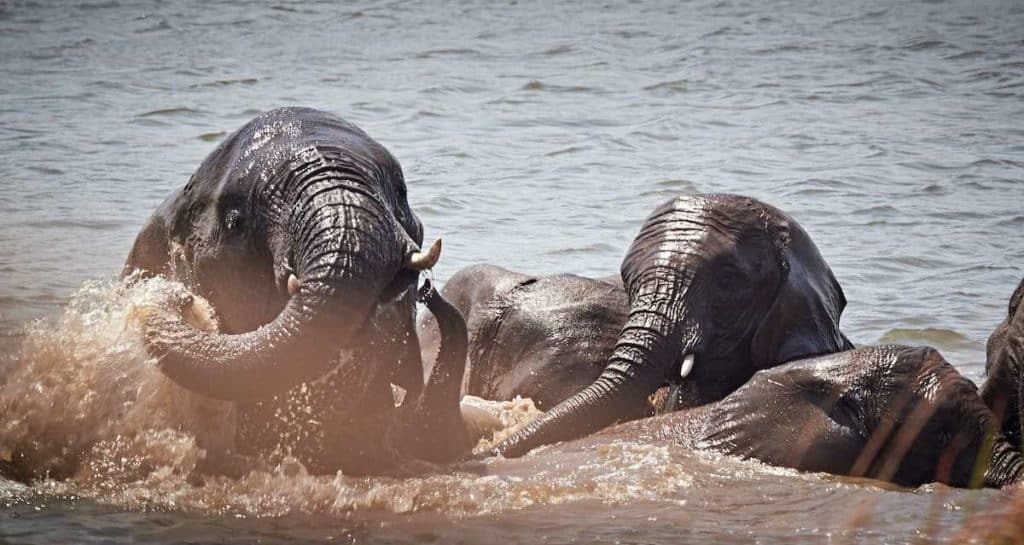 ---
Conclusion
Elephants need lots of water to stay healthy and function properly, and they also use water for communication and bonding with each other.
Elephants have been known to smell water sources from up to 12 miles (20 kilometers) away. This is probably because of their survival instincts as they must consume around 20 gallons of water in a day to survive.
---
Frequently Asked Questions about Elephants and Water
What do Elephants do with Water?
An elephant's trunk can hold approximately a quarter of a gallon of water. They keep the water in their trunks to drink or spray over themselves as an improvised method of showering or cooling down.
How much water does an Elephant drink in a day?
On average, elephants consume around 20 gallons of water in a day.
Do Elephants Love Water?
Elephants aren't just fond of water–they love it! They find swimming, diving, and surfing immensely enjoyable, and the water's buoyancy helps relieve their joints' stress. It's also a way of controlling their body heat.
Do elephants choke on water?
To switch it up, contrary to popular belief, elephants cannot drink through their trunks. If they tried, it would be the same as us drinking through our noses – and they would choke!
What Happens When Elephants don't Have Enough Water?
Without enough water, elephants can become dehydrated and suffer from health issues. In extreme cases, they may even die.
Can Elephants smell water?
Albeit not proven; Elephants have been known to smell water sources from up to 12 miles (20 kilometers) away.