Elephants are one of the most fascinating animals on earth. They're intelligent, sensitive, and social creatures that deserve to be treated with dignity. Thankfully there are people who dedicate their lives to taking care of these magnificent animals.
We want you to know everything you need to know about visiting an elephant park. That's why we created this guide, please read on!
---
What are elephant sanctuaries and what do they do?
An elephant sanctuary is a place where elephants can go when they retire or if they've been rescued from abuse or poaching. Sanctuaries provide them with food, shelter, veterinary care and lots of love!
The goal for many sanctuaries is also to eventually release previously captive elephants back into the wild so they can live out their natural lifespan in peace.
Many of these animal welfare places where elephants live are designed so that they try to replicate the natural habitat of the national parks that elephants roam free in today.
It's key that this wildlife conservation happen so that we can raise awareness about the cruelty of these gentle giants.
How do elephants end up in sanctuaries?
Sadly, many elephant calves (baby elephants) are taken away from their mothers by poachers. Their tusks are then cut off and they're sold to the elephant tourism industry where they'll spend the rest of their lives performing. They can also be sold to circuses, carnivals or even zoos where they'll be confined for years.
Thankfully, many successful orphan elephant rescue are done by people who work at elephant orphanages. You can also adopt an elephant from an orphanage.
Are all the sanctuaries the same?
Not at all! There are many sanctuaries around the world, but not all of them treat elephants well or do even allow the elephants to roam free. Some may even be involved in abusing and exploiting these animals which is why we recommend you visit a sanctuary accredited by TreadRight Foundation.
The only way to know you're making a difference is by visiting an elephant park that's been certified because they have rescued elephants.
---
What do they do at an elephant sanctuary?
ELEPHANTS! They love them and want to play with them all day long. Elephants are very social animals who like doing short training sessions with their caretakers each day such as painting or playing football (soccer).
They also spend a lot of time playing in the mud, taking baths and getting food from visitors.
That means you'll get to feed them! They love bananas, sugarcanes and peanuts. Rescue elephants are different from the wild populations (wild elephants) as they'll have to learn a lot of the things they haven't learned when they were taken into captivity as calves.
It could be to be part of a herd, feeding time, human interaction, and trusting their caretakers at the rescue and rehabilitation center.
What are these sanctuaries actually like?
These places are incredible to visit! They have beautiful landscapes with lush plants and trees where you can interact with elephants.
Some elephant orphanages even let you take an elephant on a walk/or do elephant riding together through their land!
This is an extremely rewarding experience and it gives you the opportunity to bond with elephants in their natural habitat.
Just the fact that they can interact with other elephants has a great effect on their well being and makes it more like a natural environment.
---
How do I know if it's a good sanctuary?
Well sadly, not all sanctuaries are created equal. It can be incredibly difficult to find an ethical one that doesn't have any hidden truths behind its magical exterior.
This is what makes it so important that you do your research before visiting them!
To find out which elephant sanctuaries are ethical and which ones aren't, you need to do your research. There are a lot of ways to find out if it's good or not!
We recommend looking up reviews online, asking friends who have visited them, and checking their websites for information on how they care for their elephants.
We've also summarised some of the best places to visit below in this article.
Ethical Elephant sanctuaries
Elephants have been used for years for entertainment, and it's time we change that. By going to a sanctuary you are eliminating the demand for elephants in other countries where they still use them as a form of entertainment.
Visiting a sanctuary instead of a circus will help save the lives of these beautiful creatures. The more people that stop the demand, the less elephants kept in captivity!
Are they safe at an elephant camp?
Most sanctuaries are designed with high walls so that no one can escape because these creatures are huge! Also, all of the elephants are trained extensively by their caretakers which means they're very gentle creatures.
Everyone working at the top sanctuaries are in favour of protecting elephants and against elephants chained. It might be a given, but it's an important thing to keep in mind.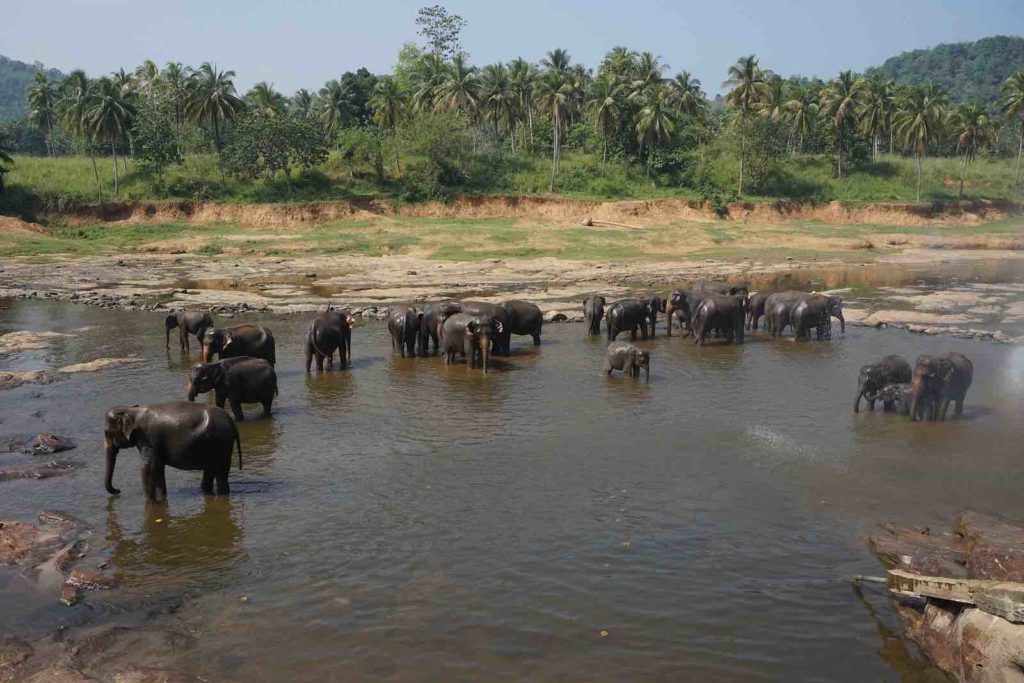 ---
How to visit an Elephant rescue center
Taking a trip to an elephant rescue center can be intimidating for anyone, but there are some things you'll want to keep in mind before you book your flights. Here are our top tips:
Book well-in advanced because the most popular orphanages and sanctuaries have limited spaces, and they fill up really quickly! Be mentally prepared!
It is very likely that you will get to work with rescued animals in some way or another and this can be a surreal experience knowing how majestic and powerful these creatures are. Also keep in mind that you'll have to pay a fee to gain access to the sanctuary.
---
What you should expect when you visit an Elephant orphanage
Some of these elephant orphanages are located in very rural areas so one thing to expect is the lack of infrastructure. This means dirt roads and barely any running water, but if you've ever wanted to be part of an adventure this experience will give you that!
There is also a lot of waiting involved when interviewing people about their experiences at these places, but this might actually be one of the best parts of visiting an elephant sanctuary.
You will get a first hand experience of people's responses and how they feel about their time with the elephants which will totally be worth it.
When you visit some of these places, you might notice some elephant "rides" or seeing some elephants giving people rides on their backs.
These activities are not as popular as they used to be and if you do come across something like this we recommend avoiding it at all costs!
The reason why we say this is because these elephants were not raised in captivity and their training was not natural.
If you ever visit a rescue center make sure to ask questions about the activities on offer and whether or not they harm the elephants.
---
How much does it cost to visit
In short, elephants are expensive creatures to care for. One elephant can eat up to $1000 worth of food every month which means that if you're planning on visiting an orphanage then be prepared to spend money!
The reason why they need so much money is because their habitats must meet the needs of each individual elephant.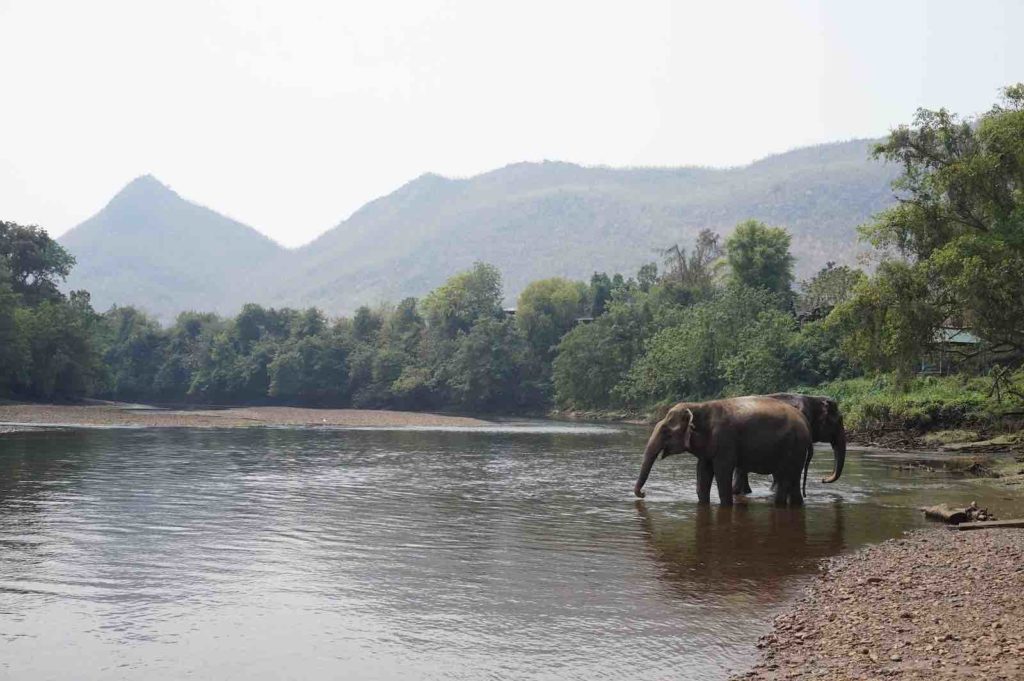 ---
What are the benefits of visiting an elephant sanctuary / orphanage
There are a lot of benefits to visiting an elephant sanctuary and the first is that you're fighting against the use of elephants in entertainment.
In many countries, people still believe that elephants are a form of entertainment which means they will use them until there's no one left to conduct these activities! By visiting a rescue center you can help educate others.
Another reason why you should visit an elephant sanctuary is because it gives you the chance to learn about elephants and their behavior.
One of the main reasons why people treat these creatures like circus animals is because they don't know them as we do.
By visiting one of these places, you'll be able to see how great elephants are firsthand!
---
The top 14 Elephant Sanctuaries in the world
Also see our top elephant destinations for seeing this amazing animal in it's natural habitat.
Sheldrick Elephant Orphanage, Kenya
The David Sheldrick wildlife trust is located in Nairobi and was established in 1977. This organization works 24/7 to provide care for orphaned elephants. It's one of the leading conservation organization's which supports elephant cruelty-free tourism in Kenya.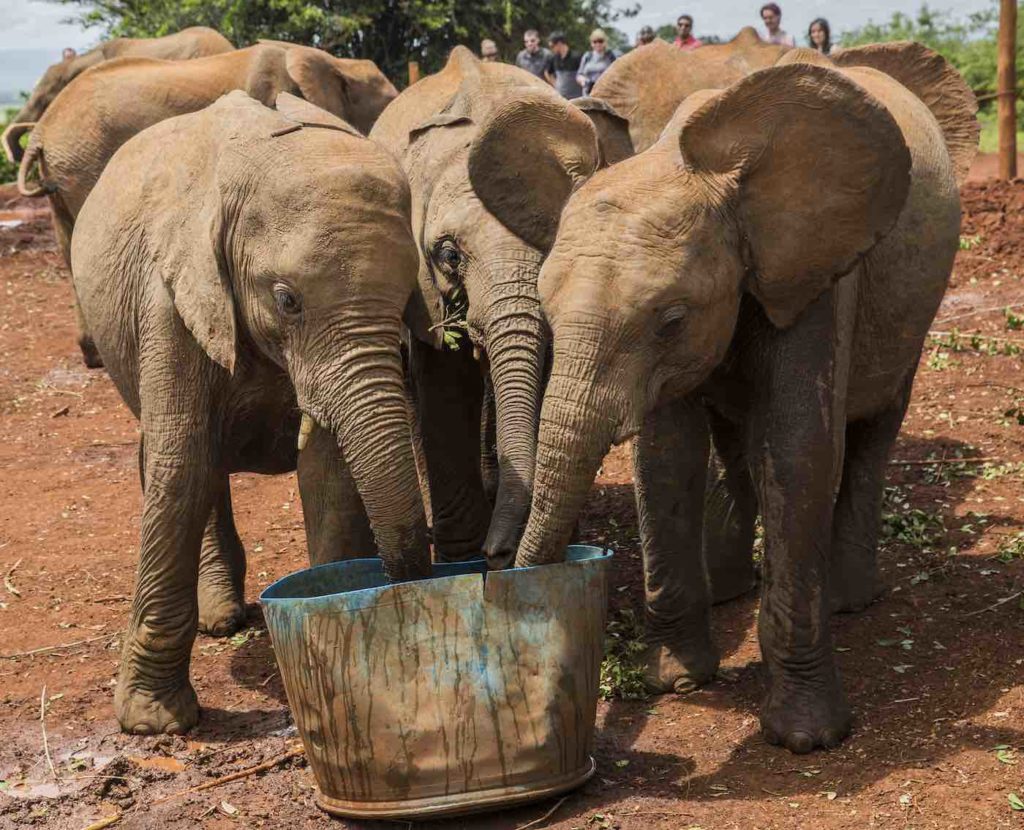 This place is part of the Big Life Foundation, which was created to work together with communities and conservation agencies to help conserve wildlife across East Africa.
It's one of the best places in the world where you can visit elephants because it gives back so much more than just an experience!
The Sheldrick Trust has saved over 200 elephants and is committed to providing a safe haven for them until the day they can be released back into the wild.
Website: https://www.sheldrickwildlifetrust.org/
Karen "Lulu" Elephant Rehabilitation Project, Thailand
The Karen people of Thailand have been living in harmony with Asian elephants for centuries and the Karen "Lulu" elephant rehabilitation project is an example of a traditional elephant caretaker.
The Karen people of northern Thailand have been caring for orphaned elephants for over 40 years and by joining the project you'll be able to learn from these experts how to take care of elephants!
There are also volunteering opportunities available so if you want to get more involved in this project then don't hesitate to contact them.
Website: https://www.asianelephantprojects.com/karen-elephant-experience/
Elephant Nature Park, Thailand
The Elephant Nature park was created by Lek Chailert and her foundation Save Elephant foundation.
The aim of this rescue and rehabilitation center is to provide a safe haven for elephants and create awareness about the cruel treatment that these creatures receive in order to entertain people.
This place has rescued over 70 elephants and is open to visitors. The park's mission is to provide a safe and healthy environment and to protect elephants and they employ people who can monitor their welfare on a 24/7 basis!
If you're ever visiting Chiang Mai then we highly recommend that you visit this place.
Website: https://www.elephantnaturepark.org/
Phang Nga Elephant Park, Thailand
The Phang Nga elephant park is located in the Phang Nga province of Thailand which means that it's part of the country's largest aquatic national park.
The park has over 50 elephants and provides visitors with an unforgettable experience of being close to these creatures.
The best part about this project is that the money you spend here will go towards protecting more elephants!
If you're excited about spending time with elephants then this is certainly the place for you.
Website: https://phangngaelephantpark.com/
Ban Ta Klang, Thailand
The Ban Ta Klang project was established in 1987 and consists of 3 main locations which give care to over 20 elephants on a daily basis!
The aim of these projects is to provide an environment where elephants can live happily on their own, however if they do need assistance with anything then there will always be someone around to help them.
Ban Ta Klang is located in the Surin province of Thailand and it's a great place for people who want to learn more about elephants while also being able to interact with these amazing creatures.
Website: https://surinproject.org/
Elephant Nature Park, Nepal
The Elephant Nature Park is located in the Chitwan National Park of Nepal and it's one of the main reasons why people visit this place.
The park provides an experience that you'll never forget as you get to see what happens behind closed doors with these endangered creatures!
This organization was created by Lek Chailert who is known for pushing boundaries so that elephants aren't exploited by the tourism industry.
It's a great place for people who want to help elephants and get close to them at the same time!
Website: https://www.nepalelephantsanctuary.org/
Ban Don Ta Phet, Thailand
Like we mentioned before there are many elephant rescues and rehabilitation centers located in Thailand and Ban Don Ta Phet is one of them!
This place mainly rescues elephants who were used for the logging industry so they need a lot of care and attention.
The ultimate goal of this place is to help these elephants become part of the wild however, if they are unable to do so then they'll be given a home here.
Samui Elephant Sanctuary, Koh Samui, Thailand
The Samui elephant sanctuary is actually a volunteer project in Thailand and it's one of the main reasons why people visit this place.
The majority of elephants that live here where once used to entertain tourists but now, they're rescued and given all the care that they need.
If you want to get involved with this project then you can become a volunteer and help these elephants get back on their feet.
Website: https://www.samuielephantsanctuary.org/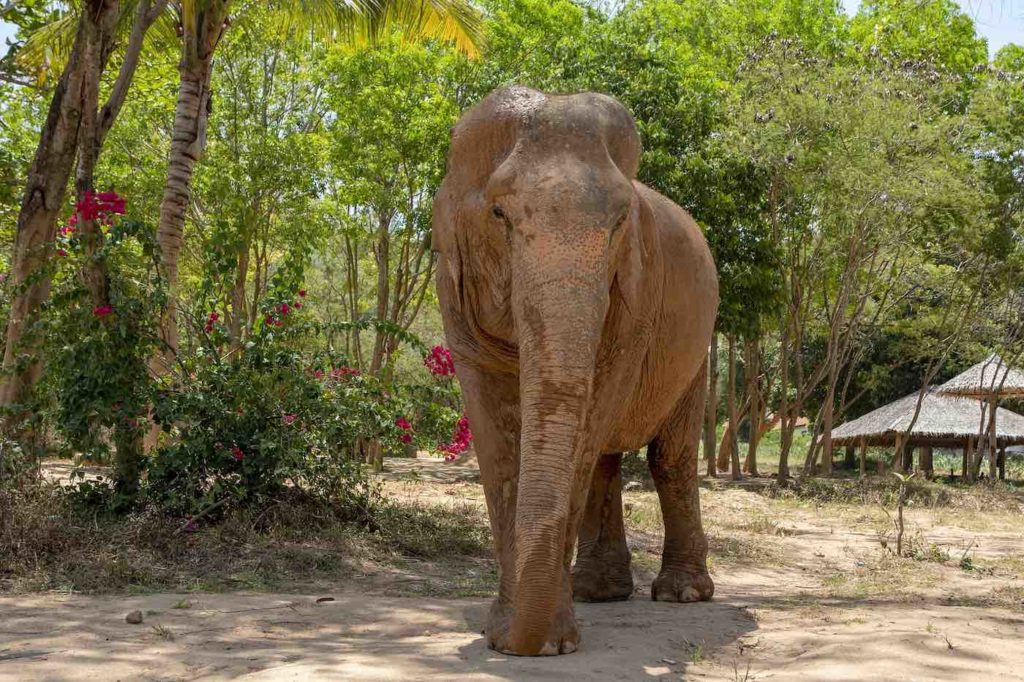 Kruger National Park, South Africa
The Kruger National Park is the host to an elephant sanctuary that gives rescued elephants the opportunity to live in their natural habitat, amongst other animals.
Kruger is known for its diversity when it comes to wildlife and this park has over 100 000 different species of animals roaming around!
This elephant sanctuary was created in 1978 by Johan Joubert who saw the need to help elephants in South Africa because they were being slaughtered. One of the main reasons why elephants are slaughtered is because they're destroyed their natural habitat.
Website: https://greater.krugerpark.co.za/Specialist_Safari_Tours-travel/elephant-sanctuary-mpumalanga.html
Thai Elephant Sanctuary, Bangkok, Thailand
The Thai Elephant Care Sanctuary is spread over 1600 acres of land and it's one of the most popular elephant sanctuaries in Thailand.
This place was created by Sangduen "Lek" Chailert who wanted to give elephants a place where they're safe and looked after.
This sanctuary allows visitors to come and see these animals however, it's important to keep in mind that elephants can become stressed if they're constantly surrounded by people.
Website: https://www.bangkokelephantcaresanctuary.com/
Rhino & Elephant Conservation, Wedza, Zimbabwe
The Rhino & Elephant Conservation is located in Wedza, Zimbabwe and it's a small non-profit organization that rescues both black and white rhinos. They also work with elephants who were rescued from the industry.
The ultimate goal of this place is to ensure that these animals can live safely and happily on their own however, if they're unable to then they'll be given a home here.
Website: https://www.thegreatprojects.com/projects/rhino-and-elephant-conservation-project
Animal Care Supporter, Kumasi, Ghana
This sanctuary was created by Nana Adjeiwaa Atakora who rescued a lot of animals including a few elephants! This place is a non-profit organization that not only looks after these animals but also give them the medical treatment they need.
This organization is great for people looking to volunteer because it provides you with all the training and information you need to know.
Boon Lott's Elephant Sanctuary (BLES), Thailand
The Boon Lott's Elephant Sanctuary in Thailand was created by Boon Rawd in 1997 and it gives rescued elephants a second chance at life.
The sanctuary is very popular among tourists because it has everything you'd expect from an elephant sanctuary such as: great views of the mountains and hiking trails.
Website: https://www.blesele.org/
---
Conclusion
A great way to help support animals in need is by donating your money or time. If you're able to visit one of these sanctuaries, it's definitely worth it!
You can get involved with the care and feeding process which will allow you to do something good for both humans and animals.
The best part? Seeing how happy these rescued elephants are when they know that someone cares about them.
Which animal sanctuary did you enjoy visiting the most? Please comment below!
---
Questions about Elephant Sanctuaries
Where is there an elephant sanctuary in the United States?
There are very few, one is called "The Elephant Sanctuary in Tennessee". Most sanctuaries are located in Asia (primarily Thailand and Sri Lanka) or Africa.
Are elephant sanctuaries ethical?
Some would argue that they are not. Elephant sanctuaries may cause animals to stay in confined spaces, which is not good for their mental health. However, there are facilities that take good care of their elephants and take them on walks and hikes, as well as activities such as painting.
What is the purpose of an elephant sanctuary?
In most cases, elephant sanctuaries are created to take in and care for elephants that have been abused, injured, or exploited.
How many elephant sanctuaries are there?
There are hundreds of elephant sanctuaries all over the world. The most popular ones can have many visitors because they're located in beautiful settings.
What is an Elephant Orphanage?
An elephant orphanage is a place where baby elephants are taken to be taken care of by humans. Baby elephants typically lose their parents to poachers, who kill them in order to take their tusks.
Why is elephant conservation important?
Elephants are among the most charismatic and beloved animals on Earth. Unfortunately, elephants face a multitude of threats including: poaching and habitat loss. Many people are working hard to protect elephants and they need our help!
How much does it cost to visit an elephant sanctuary?
It normally costs between $300-$1000 per week.
Where can I visit an elephant sanctuary?
There are dozens of elephant sanctuaries all over the world, but most people visit those located in Asia and Africa. See our top 14 destinations in this article!